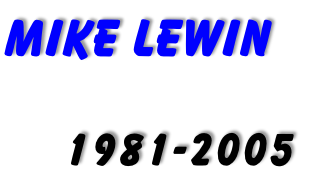 Live the dream
Mikey Lewin died doing what he loved best - boarding in perfect powder conditions, on a perfect day high in the the Lanchettes region of Les Arcs overlooking Mt Blanc
This site is dedicated to his memory and his enjoyment of life.
"When you are young and strong and full of hope, sit down one day and think about the world. Decide what you would like to do above all else and then go and do it. Follow your star to the bitter end. No matter what the hazards or the perils, no matter even if the star proves to be a false guide and you die in the attempt, you will have lived life to the full, you will have enjoyed yourself, and even if you leave behind no material treasure you will leave riches in the hearts of those who have known strength from your strength and who will cherish your memory until their day is done."
Extract from 'Danger - My Ally' by the explorer F.A. Mitchell-Hedges
Born Chester March 8 1981
Employment winter: Snowboarding
Employment summer: Windsurfing
Other interests: Snowboarding, windsurfing
Fav bar : Too many to mention but Dicks T, Rond Point Meribel. Flying Squirrel Les Arcs, Bar Lounge Chester, Sophia's Zakynthos
Places worked Les Arcs, Meribel, Zakynthos, Vas, Sunshine Village, Chester!
Died Jan 25 2005
Les Arcs, Avalanche in Reserve Naturelle des Hauts de Villaroger
Natives website
The amazing Natives website has provided a forum for all those wanting to write messages. Many thanks Natives.
Sadly the info has been lost from the site! No problem though. Copies of all the letters are available by clicking here
Charity donations
Donations have been made to two charities in Mikes memory. The Flying Squirrel in Les Arcs, as well as a huge whip round when Mike was killed, have run a skiing event to raise money. A donation was made to The Backup Trust who aim to transform lives following spinal cord injury. Donations continue to be made.
Gainful employment
Not a commercial site but thanks to the following who gave Mike gainful employment and such fun while allowing him enjoyment while he worked: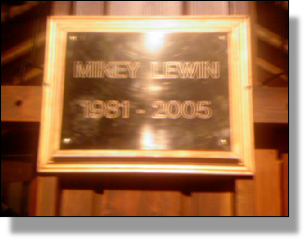 Plaque in 'Ronnies' Meribel